People of all ages and backgrounds discover community and wholeness in Jesus Christ as they participate in the various ministries of New Beginnings Christian Fellowship. Just as the struggles of life are real, so is the love of the people you will meet in this safe environment. One member explained, "When I walked in and started to tell my story, no one judged me, and they loved me just for who I am."
The kind of addiction or struggle or loss doesn't matter because these ministries start with the understanding that we are all broken and in need of the love of God to heal. Explore our ministries below and join the journey with a wonderful community of fellow travelers.
Childrens' and Youth Departments
The children and youth have two opportunities to grow in Christ each week. On Sunday mornings, they gather with the adults for a time of praise and worship at 10:30 a.m. and then are dismissed into age-graded classes after the worship music concludes. These groups also meet on Wednesdays at 6:30 for additional worship and Bible study. For nursing mothers and children under 10 months old, we have a furnished cry room available.
Toddlers (age 10 months through Pre - K)
Children are taught using all of the different senses to learn about God's creation and His Word. Little ones learn about God through Bible stories, videos, coloring pages, dance and other movement-based activities. They are prepared to participate in the Children's ministries when they graduate from this group.
Children's Class (Kindergarten through 5th Grade)
Children are encouraged to learn who God is, how to love others, the importance of prayer, and how to read the Bible. They are taught about Jesus' ministry and His life on earth and the basics of salvation. Age graded curriculum helps children learn through words and experiences together with other children.
Junior Ambassadors (6th through 8th grade)
These students are encouraged to grow spiritually, mentally, and in relationship with others. Some of the studies focus on the importance of loving others, accepting people for who they are, and we learn how to be the hands and feet of Jesus. We teach what it's like to live in the world as a Christian, how to handle tough situations and how to teach others about the love of Christ. As middle school students, life can be very challenging. We provide a safe space where they can experience peace, love, and fellowship with other kids their age who have the same desire to love Christ. (Meets on Wednesdays only)
Youth (Young Prophets)
The Wednesday evening programming for youth includes prayer and sharing of current life experiences. That is followed by a selected Bible study and then an open time for discussion. The evening concludes with a time of commitment where each youth expresses what their takeaway from the study will be for the week to come. The group talks about "growing" in Christ and "going" to share their story with others. (Meets on Wednesdays only)
In 2021, our church responded to the growing crisis of homeless families in the Waco region by establishing what we now call "Renovated Ministries." This ministry began with six members serving hot dogs to the less fortunate people who gathered around the homeless shelters near Indian Spring Park. As the shelters became full, we mobilized to provide food, fellowship and clothing. We occasionally give out hygiene packs, sleeping bags, tents and/or tarps. Now 10 to 15 church members go out every other week to minister love and encouragement to these neighbors. Barbers come out from time to time to offer hair cuts.
Since the inception of this ministry, we have helped five people to transition into their own apartments from the streets. We realize that we are no different than these neighbors who have found themselves on the street. We could be in the same place that they are at any given time. We come away blessed for having connected with these dear people. For a schedule of Renovated Ministries, see the current Facebook Group.
We regularly host and facilitate Celebrate Recovery groups as a core ministry of our church. Celebrate Recovery is a 12-step recovery program for those who struggle with hurts, hang-ups or habits of any kind. It is a safe place to discover community and freedom in Christ. The regular group meeting for Celebrate Recovery is on Tuesday evenings at 6:00 p.m. but other events can be found on their Facebook Page.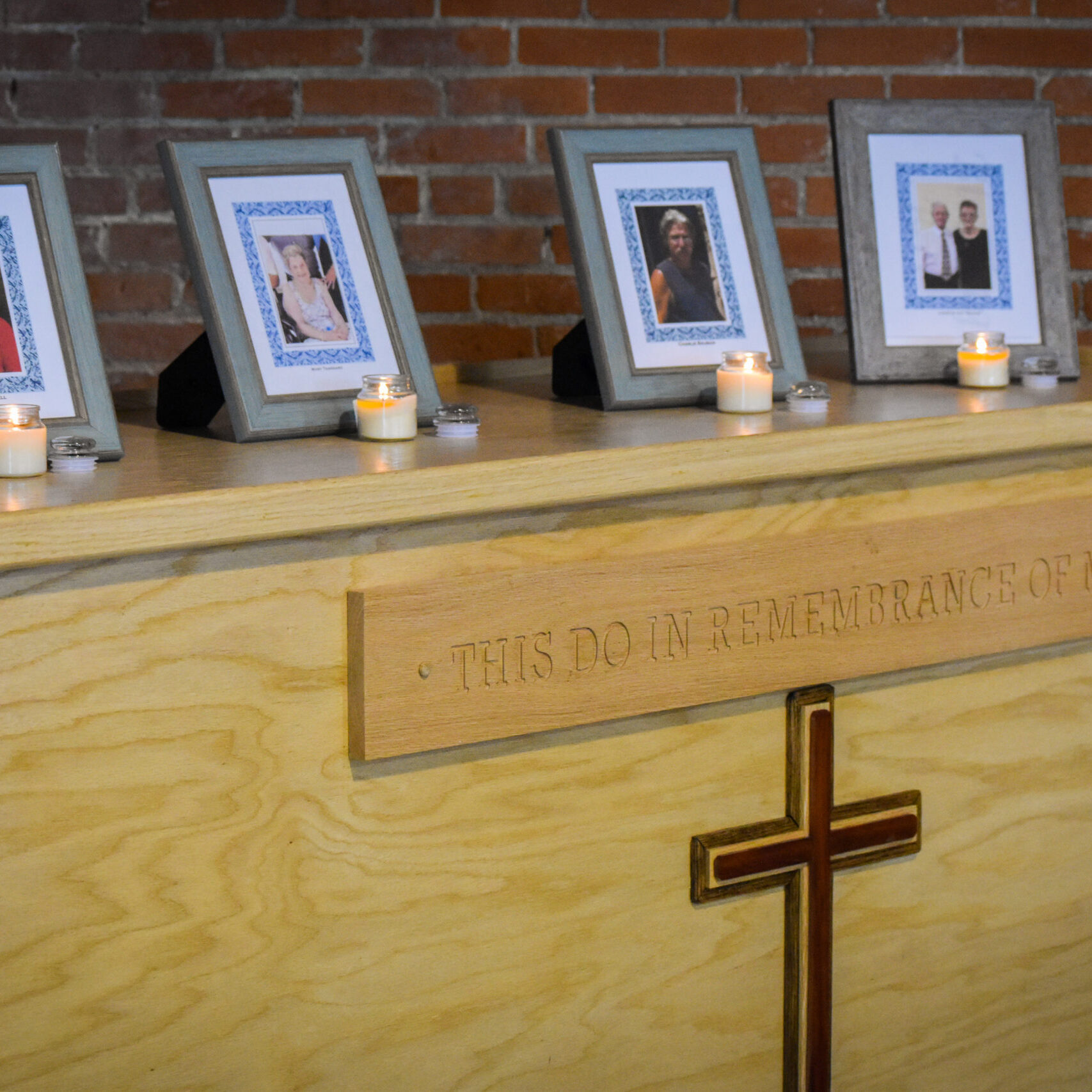 Grieving With God is a ministry where we can share our painful experiences and remember our loved ones. The ministry was established in 2019 after the founders, Monica and Michael Swindall, experienced the unexpected death of their son, Jeffrey, who passed away during a routine surgical procedure. Through the dark days and months after that loss, Monica and Michael were moved to establish a ministry to help other families experiencing difficult losses to talk and to remember. 
This ministry is called "Grieving With God" because we realize that our God whom we love and worship is grieving right alongside each one of us. Our theme verse in 2 Corinthians 1:4 reminds us that "He comforts us in all our troubles so that we can comfort others." Each meeting features a time to tell our stories, to encourage each other and to share something to eat. Times and locations of the meetings of this ministry are available on their Facebook page.